2018 FIRST+PTC Workshop
Date: 09/03/2018
Time: 9:00am – 4:00pm
Location: Plano ISD, Schimelpfenig Middle School, 2400 Maumelle Dr., Plano, TX 75023
During the summer, the following FTC teams have been working on the joint Summer FTC Chassis Study project and we will present the results at the workshop.
(details of the summer project can be found at: http://flyset.org/mentoring/summer-chassis-study-project/)
FTC team 8565: Technicbots (Plano Community team)
FTC team 6832: Iron Reign (Dallas ISD team)
FTC team 8114: Lewisville HS(Lewisville ISD team)
FTC team 12764: RoboVik (Mesquite ISD team)
FTC team 12900: Schim Robotics (Plano ISD team)
In addition, we are planning the following sessions:
Lessons Learnt from last season
Rookie team coach panel discussion with our panelists: 12764, 12900, 12977, 9010 and 7172 coaches
PTC Creo Tutorials; CAD tricks and tips session
Highlights of Fusion 360 by FTC Team 9010: Robotic Rangers
Chassis test demo and show case
Along with sharing the chassis study results, we have the following topics planned to be touched during sessions too:
Direct drive vs geared/chained drive
Spur gear box vs planetary gear box
Expansion Hub mounting position and API
software compensation for the differences between motors
Macanum wheel chassis control logic
REV chassis building tips
Comparison of Tetrix Tornado, REV Robotics HEX motor and AndyMark NeveRest motors
Comparison of Motors impact on going straight
Custom chassis build tips/tricks
We will have products and certificates giveaways from Sponsors such as Actobotics, REV Robotics and Andymark for the participating teams and completed Tetrix chassis (from the chassis study project) giveaway for the rookie team panel discussion participants (which will give you a heads start to work on attachments while part of the team is still trying to learn to build a chassis).
Please click here to register your team.
All participants must submit the signed waiver form from FIRST for attending the workshop. (Download form FIRSTWaiverForm)
Schedule: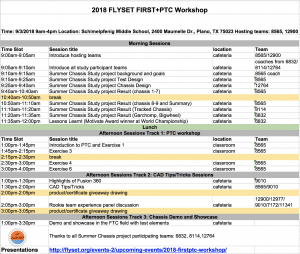 Parking Instructions: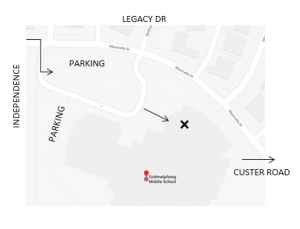 Sponsors: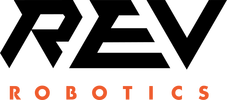 Presentation Files:
1-2018 FLYSET FTC Workshop Opening
2-2018 FLYSET FTC Workshop Team 6832-Chassis Study Test Design
3-2018 FLYSET FTC Workshop Team 12764 RoboVikings
4-2018 FLYSET FTC Workshop 2-Wheel Direct Drive Chassis
5-2018 FLYSET FTC Workshop 2-wheel Geared Drive Chassis
6-2018 FLYSET FTC Workshop 2-Wheel Chained Drive Chassis
7-2018 FLYSET FTC Workshop 3-Wheel Geared Driver Chassis
8-2018 FLYSET FTC Workshop 4-wheel Direct Drive Chasssis
9-2018 FLYSET FTC Workshop 6-Wheel Geared Drive REV Chassis
10-2018 FLYSET FTC Workshop Mecanum Wheel Drive Chassis
11-2018 FLYSET FTC Workshop 6-wheel Geared Drive Chassis
12-2018 FLYSET FTC Workshop 6-wheel Cusrom built chassis
13-2018 FLYSET FTC Workshop Chassis Test Results Summary
14-2018 FLYSET FTC Workshop Team 8114
15-2018 FLYSET FTC Workshop Team 6832-Garchomp
16-2018 FLYSET FTC Workshop Team 6832-bigwheeeeeeeeeeeel
17-2018 FLYSET FTC Workshop Team 9010- Fusion360
18-2018 FLYSET FTC Workshop PTC Creo
19-2018 FLYSET FTC Workshop CAD tips and tricks
20-IronReign6832-WorldsPresentation