2018 FLYSET IntoOrbit FLL Scrimmage
When: 11/18/18 2:30pm-5:00pm
Who: FLL teams
Where: QD Academy, 4100 Legacy Drive, Suite 404, Plano, 75024
Registration: Free
(Public spectators are welcome to watch)
FLYSET.org and affiliated FTC team 8565 (TechnicBots) are co-hosting an FLL scrimmage with ACP-foundation.org for local FLL teams to test out their robots on playing fields and get hyped for the upcoming FLL qualifiers. The aim of this event is to give FLL teams a taste of what a competition is like and give them a chance to learn from other teams.
The scrimmage will consist of Robot Games only and each team will participate in a minimum of 3 matches. Due to resource limits, a maximum of 16 teams will be allowed to participate in the scrimmage. Sign-up is first come first serve. The scrimmage is full but you can still click here for registration to be on the waitlist.
Team check starts at 2:15pm.
All teams should bring printed team roster page to confirm team members' online waiver status.
Please do not eat in the the gym.
Sponsor:
Registered FLL teams: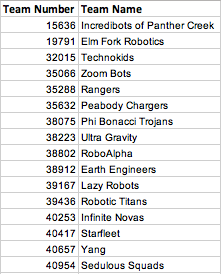 Waitlisted FLL teams: